Vicodin Addiction, Recovery And Treatment
Vicodin is an opiate analgesic narcotic (hydrocodone) combined with a non-narcotic (acetaminophen) that is doctor prescribed for moderate to severe pain. It produces euphoric feelings similar to heroin and morphine. Vicodin addiction should be addressed immediately as it has a high degree of physical and psychological dependence.
Getting help for Vicodin addiction is crucial. As you'll read below, use and abuse of this drug is prevalent, growing and hard to resist. Recoverycorps.org can assist with your rehabilitation. We are a comprehensive resource for addiction information and drug treatment centers and hospitals in your area.
What is Vicodin?
Vicodin's principle ingredient is the powerful opiate hydrocodone. It's in the same opioid drug class as heroin. Hydrocodone is derived from the most widely used medical narcotic in the world: codeine.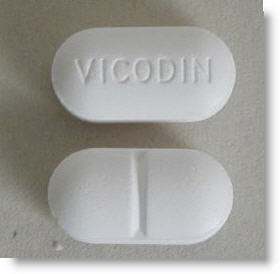 Its secondary ingredient acetaminophen is an over-the-counter pain reliever and fever reducer found in brands like Tylenol, Anacin and Nyquil. It increases the effects of hydrocodone.
Common brand name drugs with the same ingredients of Vicodin are Anexsia, Hycet, Lorcet, Lortab, Maxidone, Norco, Polygesic, Xodol, Zamicet, Zydone. These brands are typically administered in tablet or capsule form.
How Does Vicodin Work?
Vicodin's opioids attach to receptors in the brain, spinal cord and gastrointestinal tract to change the way you experience pain. These opioids also affect the nucleus accumbens. The nucleus accumbens are neurons in the brain that play a role in one's reward, pleasure, motivation and addiction.
Vicodin's Addictive Powers & Costs
Vicodin addiction doesn't discriminate. From the very public like Rush Limbaugh and rapper Eminem to those closer to home like your neighbor, your husband or your wife. It's easy to see why—Vicodin and other hydrocodones are the most prescribed pain relievers in the world.
According to IMS Health, a healthcare information company, this drug was the most prescribed in 2008 with 124 million prescriptions written in the U.S. The next closest, lisinopril, used to treat high blood pressure, was written 74 million times.
With this immense use comes great abuse…
Like all narcotics (heroin, morphine, oxycodone, etc.) Vicodin is highly addictive physically and psychologically. A Vicodin addict can also develop a tolerance meaning that over time it will take larger doses to achieve the same effects.
Vicodin's addiction effects are most like morphine with regard to "liking", subjective effects and opiate symptoms.
Some sobering stats showing the U.S.'s growing addiction to prescription opiates:
Unintentional deaths involving prescription opioids increased 114 percent from 2001 to 2005.
ER visits for nonmedical use of pain relievers more than doubled from 2004 to 2009.
Prescription drug abuse cost medical insurers $72.5 billion per year.
19% of drug abusers reported that their first drug was a prescription opiate.
56% of nonmedical prescription drug users received them from a friend or relative.
Vicodin's Dangerous Effects
When taken as prescribed Vicodin is an effective pain reliever. When abused—overdosing or mixing with alcohol or other drugs—its effects can be painful and even deadly.
The hydrocodone in Vicodin slows breathing and depresses the central nervous system. When you mix this with other depressants like alcohol or drugs like Xanax, you are essentially doubling your dosage.
The result could be extreme impairment of thinking and motor skills or in the worst case coma, respiratory failure and eventually death.
Vicodin Side Effects
Light-headedness
Cold, clammy skin
Slow heartbeat
Dizziness/drowsiness
Nausea
Confusion
Long-Term Addiction Effects
The acetaminophen in Vicodin can cause liver failure, ulcers or internal bleeding if the drug is abused. When the liver tries to process large doses of acetaminophen it releases a toxic byproduct that kills liver cells.
Add alcohol to this liver processing and more of the toxin is produced making for a dangerous health cocktail. Yet another reason alcohol and Vicodin don't mix.
Some 42,000 people are hospitalized every year from acetaminophen poisoning. In 2009, the Food and Drug Administration proposed banning Vicodin and lowering the dosages of acetaminophen in some over-the-counter medicines.
Withdrawal
Vicodin's effects on the abuser are similar to heroin and morphine. And so are its withdrawal symptoms: loss of appetite, irritability, tremors, panic, cramps, nausea, chills and sweating.
While these physical withdrawals are not deadly, they can be painful. Vicodin withdrawal should be monitored by medical professionals in a treatment program. Withdrawal recovery can take up to two weeks.
Rehabilitation & Therapy
Getting help for Vicodin addiction in a treatment center is important because the drug is hard to kick on your own. Once you realize you need help, you have several treatment options: pharmacological and behavioral.
Naltrexone and methadone are two drugs that block the effects of opioids like Vicodin and relieve the physical symptoms of withdrawal. They are administered and closely monitored in a rehab setting.
The National Institute on Drug Abuse noted that the minimum length of treatment with methadone was 12 months. And some addicts will continue to see benefits from maintenance treatment for years after.
Behavioral treatment consists of individual and group counseling, contingency management and cognitive behavioral therapy (CBT). CBT modifies attitudes and behaviors associated with drug abuse. It teaches patients to recognize and avoid situations where drugs will be involved.
Contingency management is a system where patients are rewarded for their behavior in a treatment setting, essentially positive reinforcement. For example, if a patient has a clean urine sample, they may get vouchers to spend at certain retail locations.
Let Recoverycorps.org help you find the treatment you need. Search our database for the nearest rehab center.
Sources:
http://www.drugabuse.gov/PDF/Scholastic/HeadsUp-Student-Yr6.pdf
http://www.justice.gov/dea/pubs/abuse/doa-p.pdf
http://www.justice.gov/ndic/pubs33/33775/index.htm
http://www.hcvadvocate.org/hepatitis/factsheets_pdf/Acetominophen.pdf
http://seekingalpha.com/article/128003-u-s-prescription-drug-sales-grow-slowly-hydrocodone-most-prescribed
http://www.nytimes.com/2009/07/07/health/07well.html
https://dawninfo.samhsa.gov/data/report.asp?f=Nation/AllMA/Nation_2009_AllMA_Cen_Nerv_System_Drugs
http://www.nida.nih.gov/infofacts/treatmeth.html