GHB Addiction, Recovery And Treatment
GHB is a controlled depressant that affects the central nervous system causing drowsiness, dizziness and hallucinations among other results. It is frequently taken with alcohol and other drugs to heighten its effects. Addicts should seek help at a GHB treatment center because of the drug's physical and psychologically dependence properties.
If you or someone you care about is abusing GHB find help from Recoverycorps.org's list of expert GHB treatment programs.
What Is It and How Does It Work?
GHB or gamma hydroxybutyric acid is depressant usually taken orally in liquid or powder form. It occurs naturally in low concentrations as a metabolite in the brain.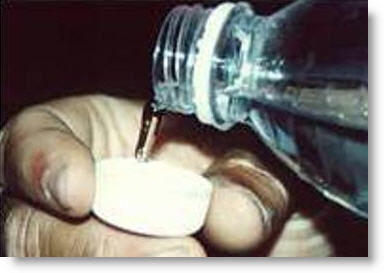 GHB attaches itself to two receptors in the brain: the GABA receptor and the GHB receptor. These stimulate the release of tryptophan which makes the user drowsy.
Common GHB street names include: Liquid Ecstasy, Scoop, Georgia Home Boy, Liquid X and Goop. It's often sold as a liquid in plastic bottles in 1 to 5 gram doses.
Who Uses & Abuses It?
GHB became popular in the 1990s and by 2000 was placed in Schedule I on the DEA's list of controlled substances. The typical GHB user is a middle class white male between 18 and 34.
Abusers of GHB fall into three main groups:
Recreational
Bodybuilders
Date rape weapon
The majority of GHB use occurs by those seeking its euphoric effects. These users often combine the drug with alcohol to increase the high.
Bodybuilders discovered that GHB had properties that were beneficial to their sport. They believe it aids in muscle development by stimulating the release of Human Growth Hormone. It is also thought to improve sleep which is crucial for the restoration of worked muscles.
GHB supplements were sold in health food stores until the FDA banned it in 1990.
Because of its effects of drowsiness, GHB has been used as a date rape drug. The victims' drinks are spiked with the odorless and colorless drug making it difficult to detect. Combined with alcohol, GHB is a potent drug that renders victims incapacitated. The assaults are rarely remembered because of the drug's effects. It's also quickly eliminated from the body.
GHB was approved by the FDA in 2002 to be used in treatment for narcolepsy (sleep disorders).
Avoiding GHB in Public
According to the GHB Awareness Project, if you're in a bar or nightclub, you should follow a few simple rules to avoid being "drugged".
don't take drinks from strangers
don't leave drinks unattended
if in doubt--throw it out
beware even of bartenders who have on occasion been the culprit dosing drinks with GHB, etc.
Put a coaster on top of the glass so the culprit would at least have to move it to dose it.
GHB's Effects
GHB's primary effects on the user are:
Drowsiness
Extreme Relaxation
Reduced inhibitions
Dizziness
Hallucinations
Loss of motor coordination
If larger doses are taken and mixed with alcohol the user may experience respiratory depression, unconsciousness, coma and even death.
Because it's produced in clandestine labs, the quality and ingredients of GHB varies.
According to the Drug Abuse Warning Network, in 1994 there were 55 emergency room visits involving GBH; there were 3,330 in 2002.

Common Side Effects
Nausea
Amnesia
Depression
Hypotension
Delusions
Vertigo
GHB Addiction
GHB addiction can be physical and psychological. Users can also develop a tolerance for it where the longer they take the more they need to achieve the same high. Addicts should seek help from a GHB treatment center.
Some users can become addicted within several weeks with daily dosages. And it becomes a vicious cycle: take it night for the high, then take it help you sleep, and wake up and take it again to get the euphoric feeling from the night before. Repeat.
Common withdrawal effects are tremors, insomnia, nervousness, and nausea.
You can overcome this addiction with the proper GHB therapy.
GHB Rehabilitation and Therapy
GHB addicts should not attempt to quit on their own. Withdrawal can be physically and emotionally painful. Though there are still many questions about treating GHB addiction some research has shown several drugs to be helpful: benzodiazepines and antipsychotic medications.
These drugs help with the psychotic effects of withdrawal. Some studies show that a 7-14 day withdrawal plan in a treatment program is effective.
Many recovering addicts will need additional drugs to help them sleep.
Other methods of treatment are cognitive behavioral therapy—changing thinking and attitudes—and individual and group counseling.
Get help from one of Recoverycorps.org's list of GHB treatment programs and resources. Your GHB recovery starts right now.
References:
http://www.justice.gov/dea/pubs/abuse/doa-p.pdf
http://www.k-state.edu/media/webzine/Didyouhearyes/GHBfacts.html
http://www.drugabuse.gov/pdf/infofacts/ClubDrugs10.pdf