Crystal Meth (Methamphetamine) Addiction, Recovery and Treatment
Methamphetamine—aka "meth"—is a highly addictive central nervous system stimulant produced in illegal labs across the U.S. Meth's effects are long lasting, toxic and deadly. Because of the high physical and psychological dependence qualities, meth addicts should seek help immediately in a licensed treatment program.
If you or someone you love is addicted to methamphetamine contact a treatment center listed in Recoverycorps.org's database.
Meth is Mainstream
A high school chemistry teacher and his ex-student start producing and selling meth, which leads to theft, shootouts with drug dealers, and eventually death. Breaking Bad is a TV series on AMC. It brought the horrors of meth into the homes of millions of Americans. And though the characters are fictional, the scenarios occur all the time in the real meth world.
On any given week in any given city, a newspaper runs a meth bust story. Why? Because meth is easy to produce and highly profitable. Here are some recent headlines...
"Brett Favre's Sister Brandi Favre Arrested in Meth Bust"
"Colossal $44 Million Meth Bust Made in Metro Atlanta"
"Official: Gilroy Meth Bust Largest in History"
"Wal-Mart Parking Lot Meth Bust"
"Michael Douglas' Son Arrested in Meth Bust"
What is Meth?
Methamphetamine is a powerful psychostimulant that affects chemicals in the brain responsible for regulating heart rate, body temperature, and blood pressure. It also affects appetite, attention, mood and emotional responses.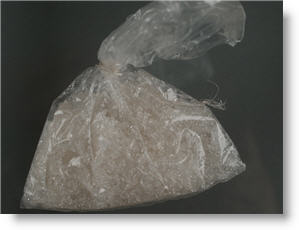 Meth causes a release of dopamine and serotonin producing euphoria in the user similar to the effects of cocaine use. The rush lasts from 5 to 30 minutes. The other effects—increased activity, decreased appetite, and sense of well-being—can last 6 to 12 hours.
Meth is usually a white, odorless powder. It can be smoked, snorted, injected or taken orally. Smoked meth is called "ice" is a hard, crystal form of the drug. Another form, small, brightly colored tablets, is called yaba.
The materials used to make meth are found in hardware and drug stores and include: pseudoephedrine, acetone, lithium batteries and anhydrous ammonia. The ease and cost of making the drug is why there are some many meth addicts and dealers to feed them.
Street names for methamphetamine include: Meth, Crystal Meth, Crystal, Speed, Crank, Ice, Glass, Chalk, Redneck Cocaine, Yellow Powder, Yellow Barn, Tina, Tick-Tick, Spoosh, Scootie
Meth History
It was first synthesized from ephedrine in Japan in 1893. In WWII, a tablet form of meth was used by the military on both sides to keep men alert and awake. In 1944, the U.S. Food and Drug Administration approved its use for treatment for narcolepsy, hay fever, and alcoholism among others. It was eventually outlawed in the U.S. Drug Abuse and Regulation Control Act of 1970.
In the 1990s, production and use increased dramatically.
Because of souring production and use into the 21st Century, The Combat Methamphetamine Epidemic Act of 2005 was written into the Patriot Act. It contains the following provisions:
Bans over-the-counter sales of cold medicines that contain the methamphetamine ingredient pseudoephedrine.
The sale of cold medicine containing pseudoephedrine is limited to behind the counter.
The allowable amount of pseudoephedrine purchased each month is limited. Purchasers are required to show photo identification.
Stores are required to keep personal information about purchasers for at least two years.
Short-Term Effects
Euphoria
Increased energy
Increased blood pressure and breathing
Elevated body temperature
Loss of appetite
Sleeplessness
Paranoia
Dry mouth
Sweating
Uncontrollable jaw clenching
Long-Term Effects
Brain damage
High blood pressure
Anxiety, paranoia
Violent behavior
Hallucinations
Weakened immune system
Strokes
Lung, kidney, liver disease
Skin infections, acne
Death
Meth Numbers
The average age of new methamphetamine users aged 12 to 49 in 2009 was 19.3 years.
In 2008-2009, 40% of past year methamphetamine users aged 12 obtained their meth from a friend or relative, free. About 30% bought from a relative. And 21% bought their meth from a drug dealer or stranger.
The number of new users aged 12 and older increased from 95,000 in 2008 to 154,000 in 2009.
In 2008, 4,347 federal defendants were sentenced for methamphetamine-related charges in U.S. courts. Eighty-two percent were male, 52.4% white, and 71% U.S. citizens
Don't become one of these statistics.
Signs of Abuse
Meth abusers typically have poor personal hygiene and pale, unhealthy complexions. Some have sores from picking at "crack bugs"—the hallucinatory feeling of their skin crawling. Cracked teeth from jaw-clenching are another sign.
Do you really want to keep living with crack bugs? Aging prematurely?
Methamphetamine Rehabilitation and Therapy
Recovering from meth addiction will probably be the hardest thing you'll ever have to do. You may not succeed the first time. But you have to start sometime if you want to live.
Abstinence is the first step. This means a detoxification which usually lasts two weeks. Though not a medically dangerous situation, it should be done in a meth rehab program under medical supervision.
The most successful meth treatment programs involve cognitive behavioral therapy, 12-step programs and contingency management.
Recoverycorps.org has made the first step easy. Choose the program closest to you. A meth treatment center can save your life. Click here for help in selecting a treatment center.
Sources:
http://www.justice.gov/dea/pubs/abuse/doa-p.pdf
http://www.cesar.umd.edu/cesar/drugs/meth.asp
http://www.fda.gov
http://oas.samhsa.gov/NSDUH/2k9NSDUH/2k9ResultsP.pdf
http://www.methpedia.org
http://www.adp.ca.gov/Meth/pdf/MethTreatmentGuide.pdf